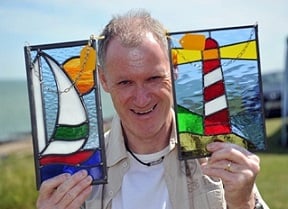 I am a stained glass artisan, having trained at Kingfisher Glass, who are based on Romney Marsh in Kent. I design and create stained glass pictures that are individual and unique, taking my inspiration not only from the texture and colour of the glass, but also from the environment around me, such as nature's wonderful displays and still life items.
Apart from pictures, I create stained glass decorated mirrors and a range of fun sun-catchers, so ensuring I cater for every pocket. I also take commissions for work, and examples can be found on the Commissions page.
I use the traditional lead came method to create many of my pictures, together with the copper-foil 'Tiffany style' method when needing to create more delicate designs.
I use different types of glass in my work, as well as a vast range of styles and colours - mainly Antique Cathedral or Spectrum. The Antique Cathedral tends to be my favourite as it has a slightly rough texture, with seeds (miniature air bubbles) and reams (creases) within the glass.
The process I use is hand-based, from cutting the glass and lead to shape and length, through soldering joints to the cleaning and finishing process.
All the lead came pieces are sealed with leaded light cement, so making them suitable for both interior or exterior use, and finished with a black patina then a black polish to give a lustrous shine. Finally, all my pieces come complete with hanging fixings.
Please note, designs do change from time to time, so any changes will be uploaded to the web site as soon as practicable.